The increase in population and more cities transforming to become buzzing urban hubs pose a serious threat to Mother Nature. If anything that the modern lifestyle lacks is a sustainable lookout or a consistent approach that assures of the right infrastructure to bring down the carbon footprint generation percentage. However, bus stops with green roofs are a steady way out. And multiple cities have already started to take proper initiatives in this regard. Wondering how and why? Continue in the blog to find out!
Bus Stops With Green Roofs – A Complete Overview
Green roofs are fully or partially vegetated extensions added to conventional roofs. It comprises a waterproof membrane, a filter layer, a drainage layer, a lightweight substrate, and the particular vegetation.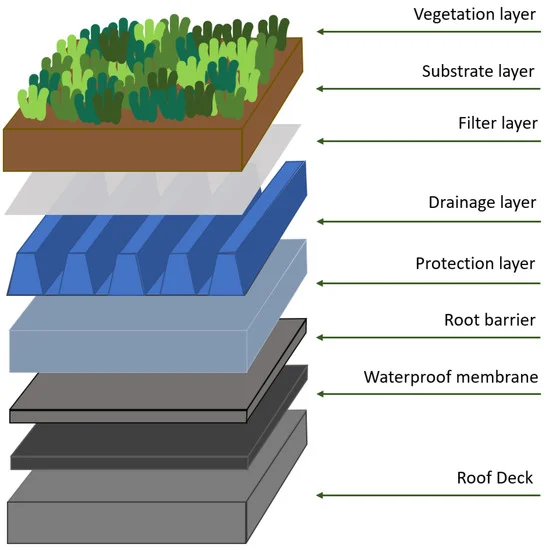 Installing green roofs in urban areas, especially bust stops contributes to air quality and carbon sequestration. It can also supervise sustainable drainage systems, mitigate urban heat islands, support biodiversity, and create new habitats. These ecosystem services are essential in controlling and adapting to changing climate.
Further, bus stops with green roofs are divided into two particular types, solely based on the plant species installed and the depth of the substrate. The division includes intensive green roofs (IGRs) and extensive green roofs (EGRs). The intensive green roofs have a deeper layer of substrate covering a small area, whereas the extensive green roofs usually have a shallow layer covering a large area.
Benefits Of Equipping Bus Stops With Green Roofs
There are several social and environmental benefits of green roofs. In this regard, vegetation and substrates are important concepts, adding to the heap of benefits already available.
A Leading Storm water Management Solution
A substrate is known to capture rainwater and reduce the runoff volume. The green roofs applied over conventional roofs in urban areas play an essential role in sustainable drainage systems. Thus helping the crowd as one of the leading storm water management solutions.
Helps With Evapotranspiration
Roads are probably the hottest areas in the city. A vegetation layer in the form of green roofs can be used to control the temperature within the city by offering a greater surface area that influences adequate evapotranspiration. In the process, water gets transferred from the land to the atmosphere by transpiration from the plants and evaporation from the soil. Also, research suggests that green roofs are more efficient when their height is lower than 10m. Thus making all city bus stops an ideal location for installation and care.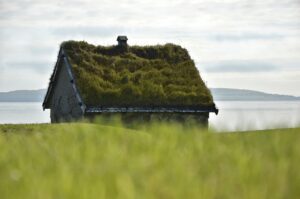 Infuses Positive Environmental Effects
Also, bus stops with green roofs are known to improve air quality in the city and lower its temperature. In the long run, this leads to positive environmental effects, reducing the percentage of air pollutants. Also, it is noted how green roofs can bring down the levels of CO2, reducing ambient air temperature and electricity demand.
Offers The Ultimate Visual Satisfaction
The particular is also a great facilitator for new habitat formation and biodiversity support. In addition to environmental benefits, green roofs are a steady way to reuse unused roofs and develop a steady base of greenery that is aesthetic by nature.
Extensive Green Roofs Over Bus Shelters In Edinburgh – A Case Study
So far, different cities have adopted the green roof revolution and started installing vegetative roofs and green bus shelters. However, little information was available about the overall installation costs and benefits involved in the process. That is why researchers came forward to analyze the objectives and benefits of Edinburgh's extensive green roof installation plan.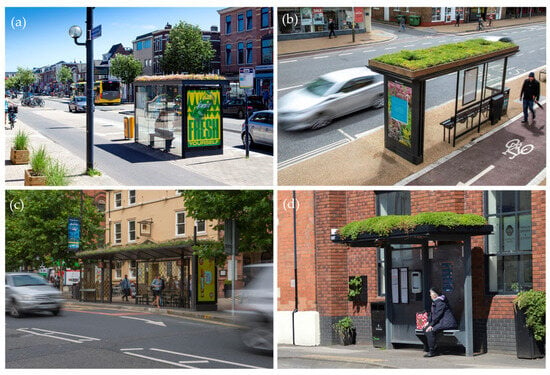 Also, the focus was to find if the approved plan is in context with Edinburgh's sustainable city plan by 2030 and the city vision of 2050. As of the 2030 city plan, environmental activists and rule makers envision reducing carbon emission levels to 0%. As for the vision of 2050, the governing body wants to enhance the percentage of green spaces within the city.
Focus Of The Study
The study includes the Benefits Estimation Tool (B£ST) program to analyze the benefits of EGRs and their application over bus shelters. Also, the researchers went on to compare the before and after situations. When no green roofs are installed, compared to when they will be. It's an intuitive initiative to quantify the social and environmental benefits of decorating bus stops with green roofs.
The Results
The study helped with a monetary comparison of all the benefits and costs of EGR installation over the Edinburg city bus stops. The results indicated that installing green roofs over bus stops is an important opportunity for the city to become greener. Also, it offers a clear overview of how the installation process will help spread awareness regarding stormwater runoff management, the loss of biodiversity, and air pollution.
Regarding funding, researchers' data indicated that Edinburgh's city management team could start by installing a few green bus stops and then move towards a more ambitious project. This will offer the much-required public awareness about green roofs and better maintenance by the local people.
The world we are part of today differs from what it used to be 20 years ago. You can notice rising pollution levels and temperature changes on the measuring scale. The worst hit are the cities, which have completely turned into concrete jungles with no place for new trees. On such an occasion, bus stops with green roofs are a great hit. You can rely on these with steady heat mitigation facilities and lower pollution levels.