41.8 million Americans offer unpaid care to adults aged 50+, while some caregivers themselves are aged over 65. Also, generations X, Z, and millennials provide paid care to the needful. However, consecutive demands and stressful whereabouts of the entire setup lead to "caregiver burnout" – A state of emotional, mental, and physical exhaustion. There are other reasons, creating a shortage of personnel to help in days of need, resulting in a declining caregiver ratio.
57% of caregivers expressed anxiety, depression, and stress at an alarming level (Cited in a report by Blue Cross Blue Shield). And how do they cope? Well, that is another disheartening story in the reveal:
50% are vigorous eaters, depending on food for emotional fulfillment.
18% seek medication.
14% move towards alcohol.
Reasons Behind Declining Caregiver Ratio All Over The Globe
The caregiver support ratio is the number of adults between 45 to 64 available for persons (aged 80+) with LTSS (long-term services and support) needs. In 2010, there were 7 potential caregivers for an adult, which will possibly decline to 4:1 by 2030 and 3:1 by 2050.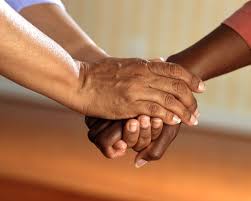 There are multiple reasons. Find them out
The total work hours in caregiving duties range between 21 and 41 hours per week. This calls for role ambiguity, and the caregivers complete most of the household chores of the family they serve. Also, these people have a day job or full-fledged family duties to take care of. They do not have time for themselves, and there is still so much to complete.
As an effect of modernization and families deciding not to have babies or start their planning late creates a long-term generation gap. Between 1990 and 2010, the world saw baby boomers (born after WWII) becoming caregivers. Increasing the caregiver support ratio. Now, by 2030, these caregivers themselves are going into transition. And by 2050, they will be aged above 80 for sure. That does suffice the shortage of caregivers and increase in the number of dependents.
Also, other forms of human needs, like social interaction and meeting loved ones or being competent enough to handle emotional barriers, affect the caregiver ratio of a whole base. At least 1 out of 3 caregivers working for patients affected with dementia undergo depression in severe forms. The accurate percentage ranges between 30% to 83%.
Robots To Make Up For The Declining Caregiver Ratio
In 2020, 80 participants comprising educators, medical students, healthcare professionals, patient advocates, government representatives, and researchers, were invited to a workshop. The discussion base remained manual, professional care, robotic care, and professionals backed by robotic schedules. They did discuss scenarios for future caregiving.
As an outcome of the discussion, major experts favored caregivers being supported by technology. Also, they did discuss the required steps, which are important for the implementation and development of eHealth. Moreover, there were keen on highlighting how necessary it is for the patients to accept the role of robotics.
"Garmi" On The Save
With more European adults reaching 80+ age in the upcoming years and a decline in the caregiver ratio, researchers can sense an immediate need to maintain the balance. A white color humanoid, "Garmi," does offer proper help.
Garmi is all about the hard work of a dozen scientists and assisting medical practitioners from the Munich Institute of Robotics and ML (Machine Learning). A part of the Technical University of Munich, the Department of geriatronics is located in Garmisch-Partenkirchen (an area with the most elderly population in Germany).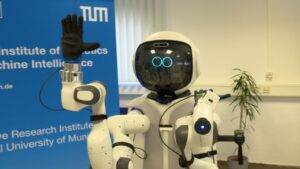 As per the lead scientist of the lab, Abdeldjallil Naceri, "The Garmi model and the entire concept of robots offering purposeful medical care is similar to the ATM booths offering quick money." People can simply visit a technological hub and get themselves tested. Doctors will be monitoring the diagnostic attributes of the robots from a distance. This will usually be easy for people residing in remote locations. While talking about home care, the same model, when taken home, will facilitate proper elderly care. Experts can configure the robots to serve meals, open water bottles, call for help during emergencies, and arrange regular video calls to family and friends of the elderly.
Other Proposed Plans For Futuristic Robots That Can Take Over The Medical Field
To ease out the entire process of caregiving at home and the hospitals, here is a list of proposals that the research teams can work on.
Assistive Robots: For elderly people and those with a disability to lead an independent, productive, and stress-free life. Depending on the main role of coordination, these robots can take physical and socially assistive forms.
Nursing Robots: A nursing robot offers supplemental care for professional caregivers in hospitals, homes, and elderly care facilities. These robots can also provide quick assistance with laborious tasks, act as support against loneliness or take care of the regular/repetitive duties in hospitals. Doctors and patients can control these remotely and care for the patient population in large quantities.
While the younger generation is busy sorting out their lives and the elderly are feeling isolated, robots can assist with adequate needs. Also, robots in medical care widen the scope of telemedicine and telerobotics, making diagnosis simple and easy to reach across remote locations. After all these, human caregivers do get time to relax, and there are fewer chances for the same to undergo depressive symptoms or loss of emotional balance in the long run.