Extended Reality (XR) stands for augmented, mixed, and virtual reality. It is everything with which you can create an immersive digital experience.
So far, XR has already placed itself prominently in training and education, helping learners comprehensively experience real-world situations. Also, brands use extended reality (XR) to let their customer base indulge in a swift product experience before completing the ultimate buy. This helps build loyalty among the customer tribe while amplifying the organizational processes.
So far, it has been all about considering and analyzing the existing use cases of extended reality (XR). Let's look into the future uses of extended reality across various fields.
Here you will come across research papers and their findings about how extended reality adds to the purpose of various field based studies.
Extended Reality (XR) And The Development Of A Virtual Training Environment For Industrial Robots
With technical expansions at their best, scientific and industrial communities are keen on developing modern control techniques to make robots and humans work together. However, to avoid all the extra hassles related to trial and error, the teams are up for designing a virtual reality-based 3D model-inclusive environment where one can create and change their setups at work.
One such study elaborates on a virtual system, combining industrial and laboratory environments to stimulate the normal behavior of the robot Scara SR-800. The researchers used the HIL (Hardware-in-the-Loop) and full Simulation techniques.

MatLab software was used to implement an advanced control algorithm and communicate with the Unity 3D software comprising the robotic setup in real time. The team used the Hardware-in-the-Loop technique because no physical robots were present. All data sharing are made possible through a series of information exchange between the target software (MatLab) and a Raspberry Pi 4 board that was in charge of monitoring the Scara robot's real behavior.
The virtual training setup comprising the laboratory environment made it possible to test the real behavior of the Scara SR-800 robot without making it too difficult on the pocket.
This, ultimately, lead to establishing the point that by using extended reality, companies can work towards creating a comprehensive proposed plan for the future of their business. This will open up a broad prospect of experimentation, besides keeping the cost minimal. Otherwise, a real life robot will be much more difficult to maintain and execute changes.
Extended Reality (XR) And The Remote Field Of Research
A research team went on analyzing various types of remote XR studies, where the primary base of argument was, establishing the usefulness of remote studies in real life scenarios. The team did come up with several case studies on remote VR experiments that they had conducted in their labs since the onset of the COVID-19 pandemic.
Benefits Of Remote Studies
Based on the observations from the different case studies, the team argued that participants felt a greater sense of empowerment compared to the lab situations while being part of an experiment.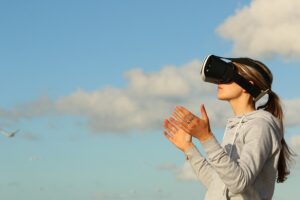 Access to adequate extended reality (XR) tools backed by an organized research approach might make it possible for researchers to include respondents from different parts of the world, otherwise difficult. Remote studies also help include a larger number of participants.
This is something better and different than the regular lab-based traditional experiments. So far, renowned brands have already indulged in such study techniques. You have Facebook, conducting the largest remote study with 49,943 participants.
Issues With Remote Studies
However, remote studies might pose a challenge for the generation not enabled to use technology, especially extended reality (XR). Also, these types of studies are vulnerable to certain data breaches. This will require the researchers to put in extra labor and added security to avoid such circumstances.
With so many things said and done, the implications of extended reality in real world scenarios are still in transition and require more work on the researcher's part. But the type of technological transition the world is stepping into, within a few days, remote research studies will be the first choice for any research work.