With advancements in technology and a growing demand for eco options, car manufacturers are actively working towards developing and introducing the next generation of transport – i.e., electric vehicles. In this article, we will explore ten upcoming electric vehicles to be launched in 2024, offering a glimpse into the future of sustainable transportation.
A Sneak Peek at the Upcoming Electric Vehicles: 2024 Edition
Driving an electric vehicle does help reduce carbon footprint as there will be 0% tailpipe emissions. Adding to the convenience – it also helps you reduce the environmental impact of charging your vehicle! Wondering how that's possible? Well, all you have to do is choose renewable energy options. Moving on, below is a sneak peek into the top lunches in the queue and the great things that you should know about them.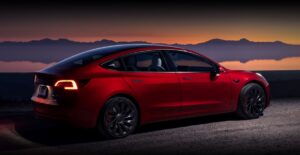 Since the release, the Tesla Model 3 has grown in popularity. The Model 3 presents an alternative for people considering converting to electric vehicles, with a range of more than 300 miles on a single charge. Along with this, you also get a spacious interior, advanced autopilot capabilities, All-Weather Control, 2 independent motors, and Tesla's over-the-air software updates.
Notable Specifications
Performance: You can accelerate the vehicle from 0 to 60 mph in 3.1 seconds.
Charging: The car is compatible with a supercharger network process, enabling faster charging.
Safety Features Enabled
Enhanced Autopilot: The Model 3 presents an 'Enhanced Autopilot' option with impactful driver assistance capabilities. Also, you get 'cruise control,'- assistance in maintaining lane position, and the ability to park itself.
Multiple Airbags: Within the Model 3, you will find airbags along with lap/shoulder belts that ensure the ultimate safety of passengers during an accident. The car comes with front airbags, seat-mounted side airbags, and curtain airbags.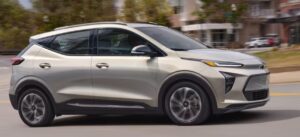 Chevrolet Electric Bolt EUV (Electric Utility Vehicle) is America's most affordable car running on electricity. You have the same available with easy and convenient charging facilities, energy-optimizing technology, and many perks to help you drive along the way.
Notable Specifications
ADAS Technology: The car has the latest connectivity features and advanced driver-assistance systems(ADAS). You get a smart assistance screen with the steering – showing charging % and energy stats. Also, you can connect your phone (Android & iOS) with the Phone Connectivity option. Finally, this Driver Information Center offers the right information about driver efficiency gauge and battery range.
Safety Features
Electronic Stability Control System: The Bolt EUV features the StabiliTrak Electronic Stability Control System, which helps maintain the vehicle's stability and control under various driving conditions. It helps with traction control to keep you on your intended path while driving through the roads.
Standard Chevy Safety Assist: The car has advanced safety features incorporated to help you take on the road seamlessly. The list of available support goes as – automatic emergency breaking, following distance indicator, Intellibeams, etc.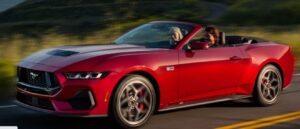 The Ford Mustang Mach E brings together the design of the Mustang and the efficiency of a drivetrain. This electric SUV is expected to be a power-packed performer covering distances of up to 300 miles. It's a captivating choice for electric vehicle enthusiasts and loyal Mustang fans.
Notable Specifications
Performance: The car is available in various powertrain configurations, including an impressive GT version with over 480 horsepower
Design: Blends iconic Mustang design elements with the SUV's practicality
Charging: Supports both AC and DC fast charging.
Safety Features
Ford Co-Pilot360 Active 2.0: You get the Ford Co-Pilot360 Active 2.0 available in Mustang Mach-E 2. It includes Intelligent Adaptive Cruise Control, Stop-and-Go, Active Park Assist, and Ford Blue Cruise system offering the ultimate safety.
360-Degree Protection Through Airbags: Inside the car, you will be completely protected! Airbags are available to protect your head and safeguard the torso and knees.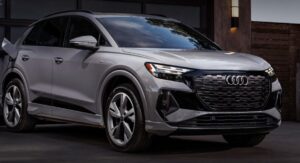 The Q4 e-tron from Audi is ready to enter the market by 2024, with a heap of special features for you to avail the car. Along with the cutting-edge features, the Q4 e-tron has a stunning look – providing a driving range of 280 miles. Overall, the car strives to offer a lavish driving experience while prioritizing sustainability.
Notable Specifications
Technology: Advanced driver-assistance systems and digital cockpit for the buyers to enjoy.
Charging: Supports fast charging for quick and convenient power-up when needed. The battery reaches from 5% to 80% within just 36 minutes.
Safety Features
Lane Departure Warning System: This system monitors the vehicle's position within the lane using cameras and sensors. If the vehicle begins to steer out of its chosen lane without the driver's action, a smart alert will be sent to the driver immediately.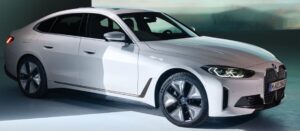 In i4, BMW aims to establish higher benchmarks for electric sedans. The brand has combined luxury with sustainability in the car. In i4, the latest fifth-generation eDrive technology meets the hallmark of BMW engineering. The car is primed to change everything about how you drive on the road.
Notable Specifications
Performance: Powerful electric drivetrain delivering impressive acceleration and handling.
BMW Wallbox: Every BMW i4 comes with a Flexible Fast Charger. A portable element that is compatible with any 120 – 240V outlet and delivers an optimized charging experience. Get the BMW Wallbox for the ultimate electric convenience – a Level 2 charger you can install in your garage for rapid charging.
Safety Features
Airbags: In the BMW i4, the number of airbags differs based on the car model. According to a search result, the top-end model BMW i4 eDrive40 M Sport has 8 airbags.
Autonomous Emergency Braking (AEB) System: The BMW i4 is equipped with Autonomous Emergency Braking technology! This feature automatically applies the brakes to prevent the impact of collisions when it detects necessary hurdles. This advanced system can respond to both vehicles and pedestrians identified.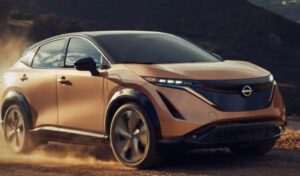 Sixth on the list of upcoming electric vehicles is the Nissan Ariya. The brand is preparing to reveal the Ariya, an SUV that builds upon the success of the regarded Nissan Leaf. Offering a range of up to 300 miles and impeccable driver assistance features, the Ariya aims to elevate your driving experience.
Notable Specifications
Design: Bold and futuristic SUV design with a spacious interior.
Technology: Advanced Pro-PILOT Assist system with semi-autonomous driving capabilities.
Charging: Supports both home charging and fast charging at public stations.
Safety Features
Airbags: Of course, the Nissan Ariya comes with inbuilt airbags to ensure safety in case of a crash. The specific count of airbags may differ based on the model and car trim level.
Nissan Safety Shield 360: The inbuilt Nissan Safety Shield 360 offers a variety of quick fixes with intelligent driver assistance. It includes features like Emergency Braking, Pedestrian Detection, Blind Spot Warning, Rear Cross Traffic Alert, and everything important.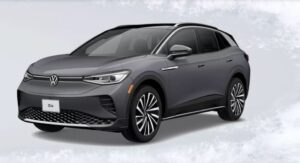 If you are planning to buy an SUV designed to offer practicality and user-friendliness, the Volkswagen ID.4 is one of the most appropriate. The car caters to customers' specific needs, searching for an environment-friendly family vehicle with a driving range of 275 miles. Additionally, the spacious interior of the car makes it an attractive option for people who want luxury included.
Notable Specifications
Technology: The ID.4 SUV has – remote interfaces, intelligent displays, and apps allowing you to make the most of your travels.
Charging: Supports both home charging and fast charging. You can take charge when powering up with the ease and convenience of home stations and an emerging network of public charging options.
Safety Features
Rear Traffic Alert: The ID.4 has a rear traffic alert system that warns drivers of approaching vehicles when reversing out of a parking space or driveway.
IQ.Drive: You can now drive around with the ultimate peace of mind, provided the car comes with intelligent assistance technology loaded. The systems included – Travel Assist, Adaptive Cruise Control (ACC), Active Blind Spot Monitor, Front Assist, Emergency Assist, and Lane Assist.
These upcoming electronic models range from sedans to SUVs. This showcases how automakers are pushing boundaries and transforming the experience of driving an electric vehicle. With their driving ranges, advanced technologies, and friendly features, these upcoming electric vehicles offer a steady glimpse into the future! Sustainable alternatives are becoming increasingly prevalent in transportation. It's time to embrace a profitable shift towards mobility and greener roads ahead.